Garage Door Openers
Back To Our Services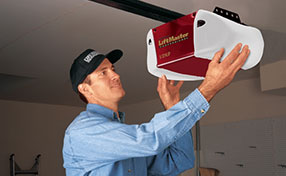 At Overhead Garage Door Milwaukie, we understand that our customers need reliable garage door openers just as much as they need them with high quality standards. A garage door openers, particularly one made by a well thought of company, can make your life much easier. Customers come to us because they trust our superior service and they know we will treat them well.
Milwaukie, Oregon has a population of around 21,000 and is continuing to grow. This charming town may be considered small, but it makes up for its small size with heart. Milwaukie is known for being the birthplace of the Bing cherry. We at Overhead Garage Door Milwaukie feel very privileged to serve such a fine community, and we continue to strive to be the best licensed garage door company around.
Overhead Garge Door Openers Parts for Sale in Milwaukie
We pride ourselves on the fact that we carry all of the major garage door opener brands at Overhead Garage Door Milwaukie. These top brands include:
Chamberlain
Liftmaster
Sears
Craftsman
Genie
Marantec
Everyone is familiar with Sears in Milwaukie, as well as Craftsman. Genie, Liftmaster, Marantec, and Chamberlain are also well known brands, and their names are synonymous with quality. These are the brands that our customers trust. We also stock different types of garage door openers and remotes from each brand, including the screw drive, chain drive, and belt drive options. A screw drive has a device that runs on a threaded steel rod to open the garage doors. A chain drive uses a chain to open the door on track. A belt drive works much the same way, except it uses a rubber belt instead of a chain. It is almost silent. The best type of garage door opener for you will depend on your preference and the amount of money you wish to spend.
24/7 Garage Door Openers Replacement Parts
At garage door openers Milwaukie, we are committed to serving our customers in any way we can. That is why we are available all day, every day for emergency repairs. If anything goes wrong with your garage door opener, you can call us and receive convenient same day service. Knowing that your garage doors will open and close when you want it to can give you the peace of mind that comes with knowing the items you keep in your homes will be protected.